Incredible Mister 💪
Staff member
Jul 14, 2022
556
256
63
Supports

Liverpool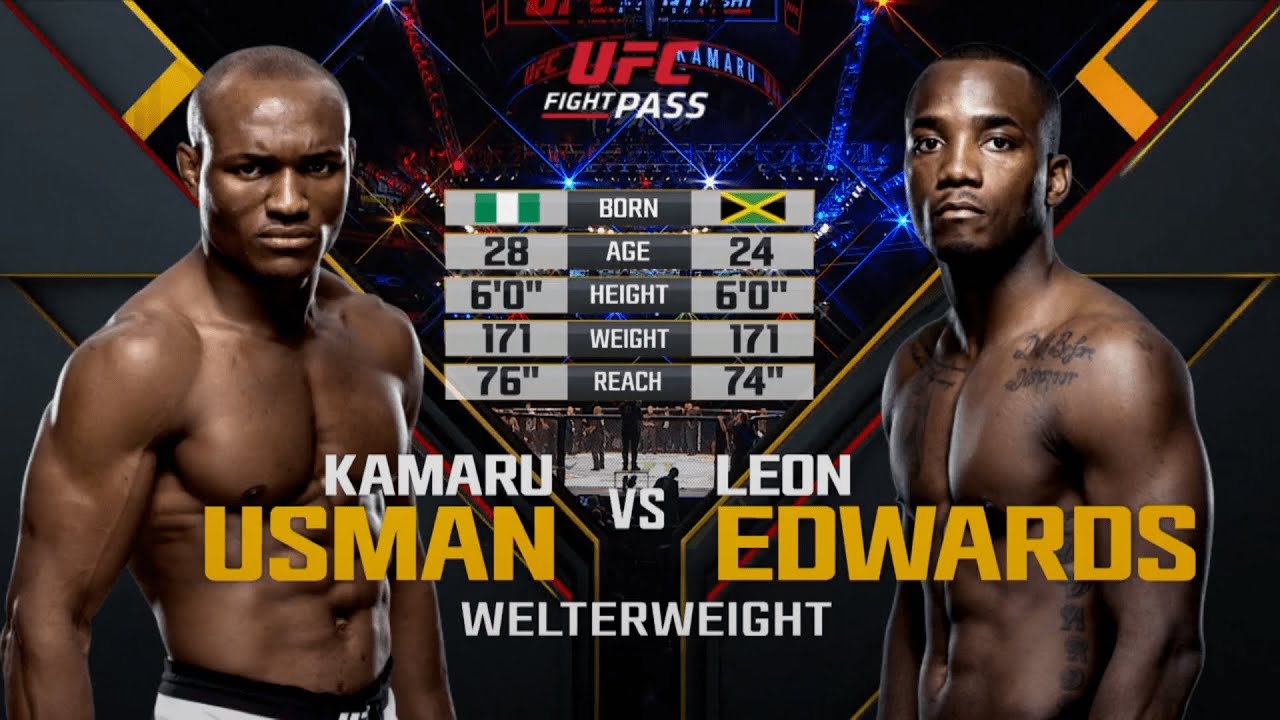 The second fight between Kamaru Usman and Leon Edwards takes place exactly 2,436 days after the first. In their first fight, The Nigerian Nightmare won by unanimous decision on the preliminary card of UFC on Fox 17 in December 2015. This time, the two will compete in the main event of UFC 278: Usman vs. Edwards 2. It is a title fight in which Edwards will attempt to take the UFC Welterweight Championship belt from Usman, who has held it since March 2019.
If Edwards wins on Saturday, he will not only win the title, but he will also be the fighter who ends Usman's illustrious MMA streak of 18 straight victories. However, if Usman wins, he will take a giant step closer to becoming the GOAT. We're not just talking about the welterweight division here, but about the entire UFC.
Where and When to Watch​
Date: Saturday, August 20
Venue: Vivint Arena in Salt Lake City, Utah
Watch: ESPN+, PPV
History Beckons On Usman.​
Kamaru Usman is 20-1 in his career, with his only defeat coming in his second professional fight in 2013. He hasn't lost a fight since and has won 18 in a row. 14 of those victories came in the UFC, where he is the reigning Welterweight champion and the #1 ranked fighter in the UFC Men's Pound-for-Pound Rankings.
The majority of Usman's career victories have come by decision, demonstrating that he is a tactical fighter who is both patient and durable. In terms of finishes, he had nine by knockout and only one by submission.
This may lead you to believe that he is a knockout artist who is uninterested in wrestling/grappling, but this is not the case. He doesn't have more submission wins in his resume because he hasn't had to fight on the ground as often because he's been able to deal with his opponents while standing up.
Usman has previously defeated Edwards, but it was not in a title fight. When it comes to title fights, he won the championship in 2018 by defeating Tyron Woodley. Since then, he's successfully defended his title five times, twice against division leader Colby Covington.
Usman will face the #2 ranked fighter in the Welterweight division, Leon Edwards, on Saturday, August 20.
Can Leon Edwards Overcome Usman?​
Although his record (19-3-1) isn't as impressive as Usman's, Edwards should be considered one of the best fighters in the UFC. Edwards, like Usman, is good at everything and has a plethora of weapons at his disposal. He excels at boxing and is deceptive on the ground.
You should be aware that Edwards has been undefeated since losing the first Usman vs Edwards fight in 2015. It's been nearly seven years, and Edwards has taken his game to new heights, defeating some real A-list fighters along the way.
In his most recent fight, he defeated a highly motivated Nate Diaz, who we saw throwing punches at Edwards left, right, and center. Despite landing 50 more strikes than Diaz, Edwards eventually won the fight by decision.
Previously, his fight against Belal Muhammad was declared a no-contest after Edwards accidentally poked Muhammad in the eye just 18 seconds into Round 2. Still, you should know that Edwards was on his way to victory after a strong first-round performance.
Usman Vs Edwards Fight Prediction​
Leon Edwards is definitely one of the best MMA fighters around now, and since his last fight with Usman, he's never lost. While Kamaru Usman is on a different level entirely, he's only a few fights away from laying claims to being the greatest fighter in that division. It's going to be a tight one, and most bookmakers are placing their bets on Usman to win, but underrate Edwards at your own peril. It's a 50-50 for me. What are your thoughts? Let's hear them