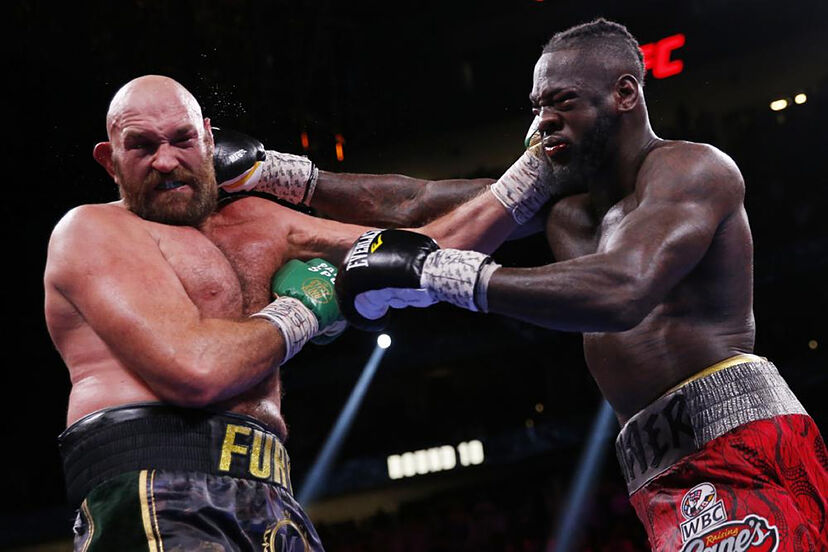 With 34 fights under his belt, the unbeaten Tyson Fury has encountered a variety of opponents, including punchers, movers, big men, and small fighters. However, he firmly believes that one opponent stands out as the most formidable.
After triumphing over Wladimir Klitschko in Germany, thereby claiming the unified heavyweight titles, Fury fell into a state of depression and engaged in a drug-fueled hiatus from the sport. Similar to his Klitschko bout, he defied expectations by staging a comeback less than three years later. His objective was to face Deontay Wilder, the WBC Champion, following two warm-up fights.
Throughout the entire match, Fury exhibited magnificent boxing skills. Despite being knocked down twice, first in the ninth round and then more severely in the twelfth, his ability to rise from the canvas epitomized his return to the pinnacle of the sport. Nevertheless, the fight concluded with a draw.
When recently asked on a Twitter Space if this particular encounter was his most challenging test in the ring, he responded negatively, indicating that it was, in fact, his bout with Wilder.
"No, I don't think that one was most challenging. I think Wilder three – me and Deontay had a trilogy, three title fights together – I think the third one was probably the hardest fight of my career."

"We both went to war. We both came in with damaging intentions. He put me down twice, I put him down three times, and I ended up getting a knockout in round eleven. But I do believe it took a lot out of both fighters, for sure. Heck of a fight."
After dominating and stopping his American opponent in their second match, Fury was contractually obligated to participate in a third fight. However, the lead-up to the bout was disrupted by a family illness, and many people believe it affected his performance in the ring.
Despite being knocked down heavily twice, Fury managed to take control in the later rounds, continuously attacking Wilder from one side of the ring to the other. Eventually, he successfully stopped the courageous former champion, bringing an end to an incredible trilogy in the modern heavyweight division.
Afterward, Fury talked about the process of recovering from the intense fight, discussing the difficulties and steps involved in returning to his best physical condition.
"There's a lot of rest and recuperation involved. Eating plenty of food, enjoying your family or friends or people you care about. And just taking it nice and slowly you know.

Because you're gonna be sore, you're gonna be in pain, you're gonna be hurting quite a lot. After a few days or a week, you start to get a lot better. Time is a healer, no matter what it is."
Many people think that 'The Gypsy King' needs to have two more fights to make his legacy stronger. The first one is a grudge match against superstar Anthony Joshua, who is also from the same country. The second one, which is even more important, is a fight against the slick and talented Oleksandr Usyk to become the undisputed champion.