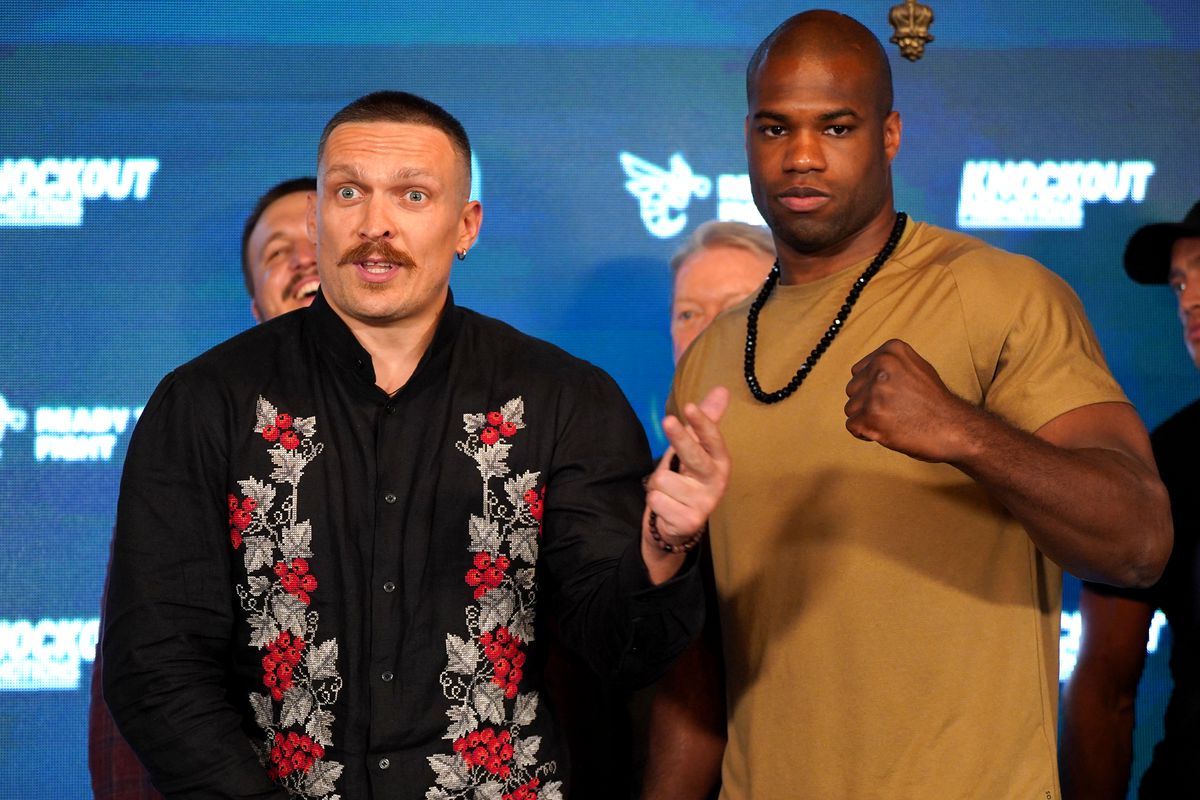 Boxing fans around the world! The day is finally here. This Saturday night marks a historic moment as Oleksandr Usyk steps into the ring to defend his heavyweight title belts against the formidable Daniel Dubois.
The boxing world was buzzing with anticipation for a clash of the titans between Usyk and Fury, aiming to crown an undisputed champion. But hold onto your gloves, because Fury surprised everyone by choosing to trade blows with UFC legend Francis Ngannou this October.
Now, here's where it gets thrilling – Daniel Dubois doesn't need to play the waiting game. Thanks to his smart positioning and the upcoming mandatory challenges in the boxing pipeline, he's snagged the golden opportunity to fight for the title right now. It's a tale of seizing the spotlight, with Dubois at the front of the line, ready to prove his mettle.
Behind The Scenes​
When Fury decided to step into the ring with Dereck Chisora for the third time in December, the reasoning was that his old rival offered the best chance for a fiery match at the start of December. This was all part of a larger plan involving Fury and Usyk.
However, even though they seemed close to an agreement at one point, the promoters for both fighters clashed over whether any offers had been presented and how much each fighter was worth for the bout.
Usyk eventually agreed to take only 30% of the earnings to finalize the deal. But negotiations with Fury's team hit a wall after that, and it became clear that their fight wouldn't happen in Saudi Arabia until the end of the year.
The question of whether Usyk will ever step into the ring with Fury is still up in the air. However, the people at Queensberry Promotions knew that another one of their fighters, Dubois, was ready to take on the challenge instead of the WBC champion.
Some argue that facing a skilled opponent like Usyk might not be the best timing for Dubois. In his first defense of the WBA regular belt, which he won from Trevor Bryan, Dubois faced unexpected trouble against Kevin Lerena, a lesser-known fighter, getting knocked down three times at the Tottenham Hotspur Stadium.
Kudos to Dubois, though, as he managed to recover and defeat Lerena by the end of the third round. Yet, the injuries he sustained from the early knockdowns led to a long break from fighting.
For the 25-year-old to agree to this fight on this date, it's believed he's fully healed. Still, it's a venture into uncharted territory, where his agility and quickness will play a vital role against someone as skilled as Usyk.
Fight Venue​
If it were feasible, Usyk would have preferred for this bout to happen in Kiev. However, due to the ongoing conflict between Ukraine and Russia, a neutral location in Poland has been chosen.
The chosen venue is the Tarczynski Arena, which serves as the home ground for Slask Wroclaw. With a seating capacity of 45,105, the arena has not only been the stage for matches of the Polish top-tier football team but has also hosted 13 Poland friendly matches since 2011 and three games during Euro 2012.
Back when it was inaugurated 12 years ago, the Tarczynski Arena held a significant world heavyweight title fight. It was where Tomas Adamek challenged Vitali Klitschko, with the champion successfully defending his WBC belt by securing a 10th-round stoppage.
Winner Takes All ​
While the prevailing expectation is in favor of Usyk winning this match, we should take a closer look at the consequences for both the victor and the loser. Let's start by examining the implications for Usyk.
Whoever emerges triumphant this week will be mandated by the IBF to face their mandatory challenger, Filip Hrgovic. Hrgovic has held this position since August 2022, and this match must take place before the year's end.
In both scenarios, this potential opponent appears more likely than a bout against Fury. Usyk wouldn't want to give up any of his championship belts, and it's improbable that Dubois would be pitted against Fury unless an irresistible offer came his way.
In the event that Usyk suffers a loss, a rematch clause wouldn't be in play due to Dubois being a mandatory contender. Consequently, the prospect of a matchup with Fury would fade away.
Should Dubois fall to Usyk, much will hinge on the quality of his performance. A strong showing in defeat could set the stage for a significant bout at the global level. On the other hand, a lopsided loss would probably lead to a return to competition no higher than the European stage.
Expert Prediction ​
For Dubois to pull off a massive upset, the general agreement is that Usyk would need to have shown signs of aging since his last match against Anthony Joshua. In that bout, Usyk emerged victorious against a younger, world-class opponent.
Additionally, for Dubois to succeed, he must land the "perfect punch" against Usyk, who hasn't been knocked down since his amateur days back in 2011. Usyk is known for his elusive style and defensive skills.
Bookmakers have Usyk as a heavy favorite with odds of 1/12, and these odds are hard to argue against. Despite all the talk about Dubois's punching power, the odds of him stopping Usyk are at 8/1. In comparison, the odds of Usyk scoring a rare knockout in the heavyweight division stand at 4/9.
While Dubois remains a credible threat as long as he's in the ring, it would be surprising if Usyk doesn't secure a convincing victory, quite possibly through a knockout. It's worth noting that Dubois has been knocked down in two out of the four most significant fights of his career.