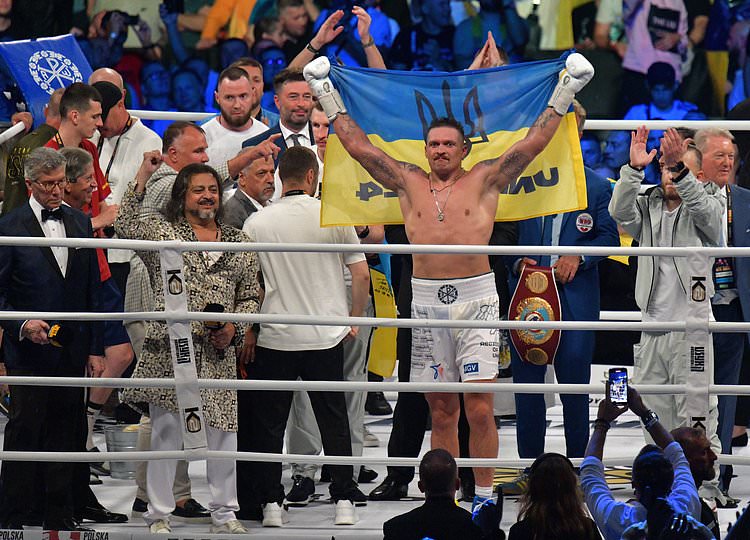 Oleksandr Usyk reaped the rewards as the clear favorite in his clash against Daniel Dubois on Saturday, although the victory didn't come without its share of controversy. Usyk's impressive defense of his WBA, WBO, and IBF heavyweight titles, resulting in a ninth-round knockout, will unfortunately be cast into the shadow of the referee's judgment concerning a potential low blow.
During the fifth round, Dubois sent Usyk to the canvas with a blow that the referee deemed to be against the rules. Usyk utilized the entire five-minute period granted to him for recovery. A subsequent replay revealed the forceful blow from Dubois landing squarely on the belt line. This spurred immediate debates among both fans and commentators, who deliberated over whether Usyk had been unfairly fouled or had simply been caught cleanly.
The decision was met with outrage from Dubois' team, who vowed to challenge the ruling and question why no point deduction was imposed on Dubois if the foul indeed held merit.
"I didn't think that was a low blow and I've been cheated out of victory tonight," Dubois said post-fight.
Usyk displayed composure in the initial rounds, yet his demeanor became more lively following the disputed blow. This injection of vigor into Usyk's offense led to a thrilling second half of the match. Dubois succeeded in unsettling Usyk with well-placed body shots, while the champion responded by consistently snapping his opponent's head back using jabs and straight punches.
The momentum shifted in Round 8 when Usyk secured the first official knockdown of the bout. Employing a combination attack that culminated in a right hook followed by a left cross, the champion sent Dubois to the canvas. Although Dubois managed to survive until the bell, his resilience waned, ultimately leading to his downfall in Round 9 courtesy of a powerful right hand from Usyk.
The mandatory contender, Dubois, earned his title opportunity against Usyk following the unfortunate cancellation of the highly anticipated Usyk vs. Tyson Fury bout. Usyk now renews his focus on an undisputed heavyweight championship clash. However, his confidence in this pursuit is tinged with uncertainty due to prior failed negotiations.
"I'm ready tomorrow..." Usyk said post-fight. "Will Tyson Fury want it? I have no idea. But I'm ready."
Now Tyson Fury has no hiding place, he needs to face Usyk. I can;t wait to see both men in the ring, how about you? Let's hear your thoughts