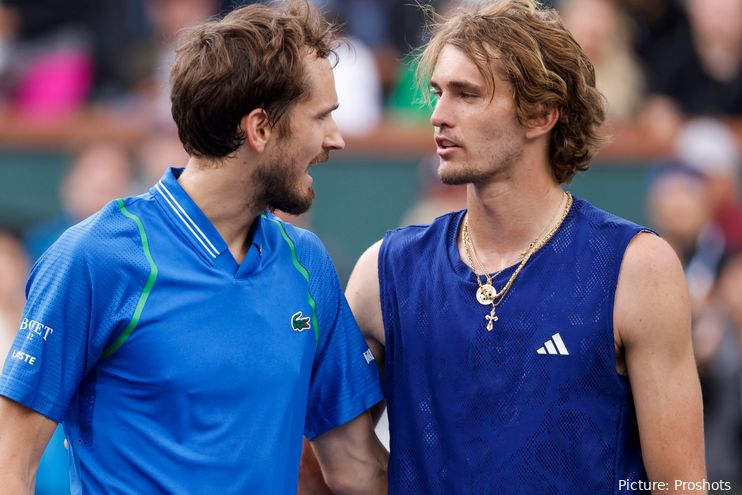 Daniil Medvedev has secured the first spot in this year's ATP World Tour Finals semi-finals with a convincing straight-sets victory over Alexander Zverev in the Red group. After comfortably defeating his fellow countryman and close friend Andrey Rublev in the opening match, the Russian faced an early challenge but ultimately triumphed over Zverev with a score of 7-6[7], 6-4 on Wednesday evening.
In their 18th top-level encounter, Zverev had two set points in the tie-breaker, but a crucial unforced forehand error cost him one, and Medvedev saved the second. The German later missed a key opportunity in the second set when he couldn't convert a break point against Medvedev in the ninth game. Unfortunately for Zverev, he lost his serve while attempting to stay in the match, securing Medvedev's path to the semi-finals.
"It was a very tough match mentally. I started very well, I was playing well. He was kind of not there yet, but at one moment he stepped up his game and at this moment, for whatever reason, I started playing a little bit worse for a short period of time," Medvedev said on the court.

"I'm happy that I managed to regroup and play better at the end of the first set. The end of both sets was very tight... In the tie-break he had set point on his serve. I'm happy because this year I might have lost some matches like this. I'm happy to be able to win."
Medvedev has reached the ATP Finals knockout stages for the third time. He previously clinched the championship in 2020 and finished as the runner-up in 2021, losing to Zverev in the final. However, in the following year, he experienced an early exit during the round-robin stage.