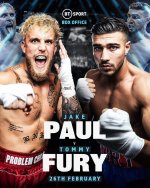 Tommy Fury, the younger brother of Tyson Fury will face the YouTube boxer, Jake Paul, on February 26.
Tyson Fury previously said that Tommy Fury should KO Jake Paul or remain in UAE where the fight is supposed to hold.
Boxing enthusiasts think of Jake Paul as a joke since he's not a real boxer, but he's cashing out of the sport by fighting C-level boxers, retired boxers, and washed up MMA fighters.
If Tommy Fury can't win Jake Paul, then he should give up boxing.